Awards from the Finnish National Kantele Association 2020
Kantele of the Year was awarded to the artist Paula Vesala for her brave and visionary cooperation with kantele artist Jutta Rahmel and harmonium artist/singer Aili Järvelä on the television show "Vain Elämä" (Only Life). President Halonen chose the recording Deep Ocean by the duo RAUMA with Japanese kantele artist Hiroko Ara to be Kantele Record of the Year.
The awards from Kanteleliitto were announced on the Folklandia cruise at the Long live folk! -gala (Eläköön Folk! -gala) on January 10th, 2020. Awards include Kantele of the Year, which is given for an event or deed that advances or promotes kantele culture, Golden Kantele (Kultakantele) for life work promoting kantele, Kantele Group of the Year and Kantele Record of the Year. The Golden Kantele was awarded to master luthier, doctorate of music and musician Rauno Nieminen. Kantele Group of the Year is Zäpämmät.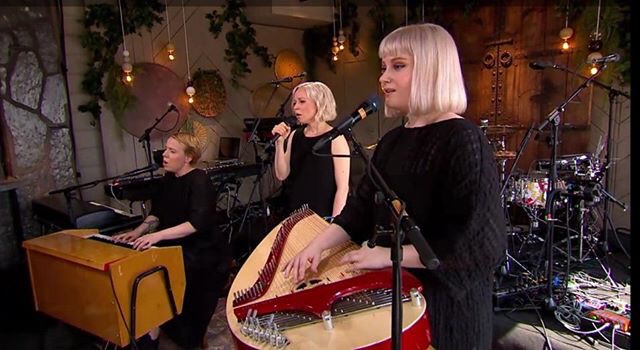 Kantele Record of the Year 2019 – Rauma: Deep Ocean
RAUMA is a duo with Hiroka Ara (concert kantele, 5-string brass-string kantele, 10-string kantele) and Haruhiko Saga (morin khuur, ikel, doshpuluuri, throat-singing). On their long-play record RAUMA performs traditional and Mongolian music as well as compositions by Martti Pokela, themselves and others. Hiroko Ara is a Japanese kantele artist and teacher of kantele, who has previously released 3 solo albums. President Halonen explains her choice:
Thank you for the possibility to become acquainted with the latest in kantele music. Each CD was a fine entirety. The kantele works well both as an accompaniment and in solo instrumental situations. We listened to the records first together in the office midst the Christmas rush and then I continued listening by myself at home.
My choice could have been any of the candidates based on various criteria. I decided to choose something instrumental so that the kantele would be in the forefront. Then I let my feelings rule me. My choice is RAUMA with Hiroko Ara and Haruhiko Saga because their sensitivity and meditative quality have reached out to me again and again.
This type of music on the record was a bit surprising to me too, a new kind of bonding with culture, but it can find new friends for kantele.
Sincerely,
Tarja Halonen
Kantele of the Year 2019 – Vesala, Jutta Rahmel & Aili Järvelä
The Finnish national kantele association, Kanteleliitto, awarded the Kantele of the Year to the artist Vesala for innovative cooperation with kantele artist Jutta Rahmel and for using kantele bravely and unconventionally in new situations such as the serial Just Life (Vain Elämää), in which the trio Vesala, Järvelä & Rahmel performed a touching version of Tulkoon mitä vaan originally performed by Lauri Tähkä.
The same trio has also performed at the Meidän Festivaali (Our Festival) and at Just Life live concerts at the Hartwall Arena. The trio will perform at various festivals in 2020. Cooperation between Vesala, Rahmel and Järvelä has given birth to stylish, perceptive arrangements that show a strong artistic vision.
Golden Kantele 2019 – Rauno Nieminen
In 2020 the Golden Kantele is awarded to Rauno Nieminen, master instrument builder, Mus. PhD, author, artist, musician.
It is difficult to decide where to start and finish when telling about Rauno, his career has been so diverse. His main occupation was teacher of instrument building in Ikaalinen, from which he retired in 2018. In addition he is a multi-instrumentalist, and has performed in many countries around the world. He has authored many books, built quantaties of different instruments and served many years on the board of the Finnish national kantele association, Kanteleliitto. He is an honorary member of The European guitar Builders and honorary chairman of the Finnish Guild of Luthiers (Suomen soitinrakentajien Kilta). Rauno has built copies of many historic instruments, for example the 5-string brass-string kantele of Ontrei Malinen. He plays different kanteles in several ensembles, for example Primo (Primitive Music Orchestra), Ontrei and Sarijärtwi Candlet.
This lifetime achievement award was given to Rauno Nieminen for his lengthy, groundbreaking and determined work for kantele as a luthier, researcher and kantele artist.
The Finnish national kantele association (Kanteleliitto) Performing Group of the Year 2020 – Zäpämmät
The Finnish national kantele association (Kanteleliitto) chose Zäpämmät, the duo with kantele artist Marjo Smolander and percussionist Pauliina Kauppila to be Performing Group of the Year 2020. The duo's music has an edge and vocals and instrumentation combine well. Attention is drawn to their own strong style and sound as well as the fusion of many traditions and styles. In their own words: "Zäpämmät's repertoire is made of pieces which combine Finnish traditional music with elements from Senegal and Mali, as well as elements of Afro-Cuban music and flamenco." Their strength is their own compositions and lyrics as well as social messages about women and girls and their rights. The duo has a fine deliberate concept and visual appearance.
Zäpämmät (Pauliina Kauppila & Marjo Smolander)
Photo: Martiina Woodson
Translated by Jane Ilmola